Horticultural expertise at Van Meuwen
Aart Alders, the founder of Van Meuwen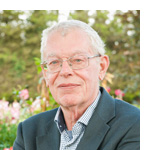 Born and raised in Holland, Aart went to a unique Dutch college to train as a horticulturalist, specialising in the bulb, plant and shrub industry as we know it today.
In the mid 60's he moved to the UK and joined a large nursery specialising in bulb forcing, tomato and paeonia growing and other general nursery work, gaining valuable hands-on experience.
In 1973 he progressed to set up his own business as a flower-bulb grower in the Spalding area, with many acres under cultivation. He soon expanded into other areas of horticulture, adding roses, shrubs, dahlia, gladioli, begonias and many others to his range, all of which further increased his horticultural knowledge and experience.
When he branched out into mail-order in 1977 the Van Meuwen business we know today was born, offering its popular range of unique and novel products, as well as established best sellers.