How To Grow Your Van Meuwen Plants
This guide has been produced to help you get the best results from the items you have ordered. Please follow the general instructions below and the specific information relating to your items which you will find against each product on this site.
On receiving your goods please unpack and check all the contents. If you have ordered other items that have not yet arrived they will be sent later at the correct planting time. At some times of the year many perennials, shrubs, roses and fruit trees are dispatched in a dormant condition as bare root plants and may therefore appear lifeless. Once the warmer days of spring arrive they will break from their dormancy and start to grow.
If you experience problems with any items please contact us .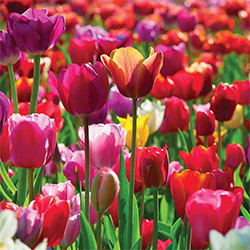 Bulbs, corms and tubers.
If bulbs, corms and tubers cannot be planted immediately store in a cool, frost free place. Ensure that the bags are opened to allow the air to circulate and reduce the risk of mildew. Bulbs should be planted with the pointed end facing upwards, at a depth of approximately 3 times their height. Most bulbs will prefer a moist, free draining soil.
For more information on how to grow bulbs, corms and tubers click here.
Bareroot roses, shrubs and fruit trees
Weather permitting, plant bareroots immediately upon arrival. If this is not possible, store in a cool but frost proof place, away from draughts, where the plastic packaging around the roots will enable the plants to survive without attention for several days.
If storage for more than a few days is required, then roses, shrubs and fruit trees can be 'heeled in'to a temporary position until it is more convenient to plant them in their final positions. Make a narrow temporary trench in a sheltered part of the garden, and remove the plastic wrap from the items to be placed in the trench. Water well and cover with soil. This should allow the plant to survive until conditions allow planting in a permanent position.
Most bareroot plants will grow well in any fertile soil, but require an open position with good drainage. Soak the roots for 2-3 hours prior to planting. Spread the roots out carefully and plant firmly. When planting is complete, water well to settle the soil. Water all plants regularly until they are well established.
Follow these links for more information on how to grow roses or trees and shrubs. For more information on how to grow fruit on the patio click here.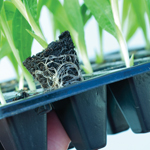 Plug plants
Open the packaging immediately on arrival and pot up plug plants into small pots of good quality potting compost. Water well. Plug plants should be grown on in bright, frost free conditions until they are well grown and all risk of frost has passed. Before planting out in their final positions, they should be gradually acclimatised to outdoor conditions over a period of 7 to 10 days.
For more information on how to grow plug plants click here.
Bareroot perennials
On arrival, open the packaging of bareroot perennials immediately and plant them at the earliest opportunity. Should soil conditions prevent planting directly into borders (if soil is frozen or waterlogged), bareroot perennials should be potted up, watered sparingly and grown on in a cool position for planting out at a later date. Choose a sunny or semi shaded position in moist, well drained soil and work some well rotted manure or garden compost into the soil. Dig a hole wide enough to accommodate the bareroot with its roots spread out, and deep enough that the crown of the plant is just a few cm below soil level. Backfill the hole with soil and firm the plant in gently. Water well to settle the soil.
Follow this link for more information on how to grow perennials.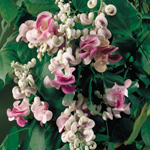 Tender plants
All tender items must have protection from frosts.Some may require minimum growing temperatures. Please check individual product pages for specific cultural instructions.