Top ten tips for growing daffodils
'A host of golden daffodils' inspired Wordsworth to write one of the nation's favourite poems.
Image: Van Meuwen
Daffodils are a joyful spring flower, announcing the welcome arrival of lighter mornings and milder days. If cared for correctly, these cheerful perennials will return year after year. Their hardy nature helps them withstand most of the UK's inclement weather, and they come in a variety of colours – from elegant white through to warm blush and zesty orange.

Daffodils will happily grow in well drained soil in borders, containers, window boxes, naturalised in grass, or even indoors. Plant daffodil bulbs by early October to ensure a healthy display next spring. Not sure where to start? Here are our top ten tips and tricks for growing daffodils.
1. Plant daffodils to the right depth
Plant bulbs pointy end up to a depth of about 10cm (4in) - or to about three times the height of the bulb. The depth plays an important part in the success of your daffodils. Plant too shallow and you run the risk of dividing bulbs and 'flopping' stems. Plant too deep and your daffodils might never emerge. If in doubt, err on the deeper side.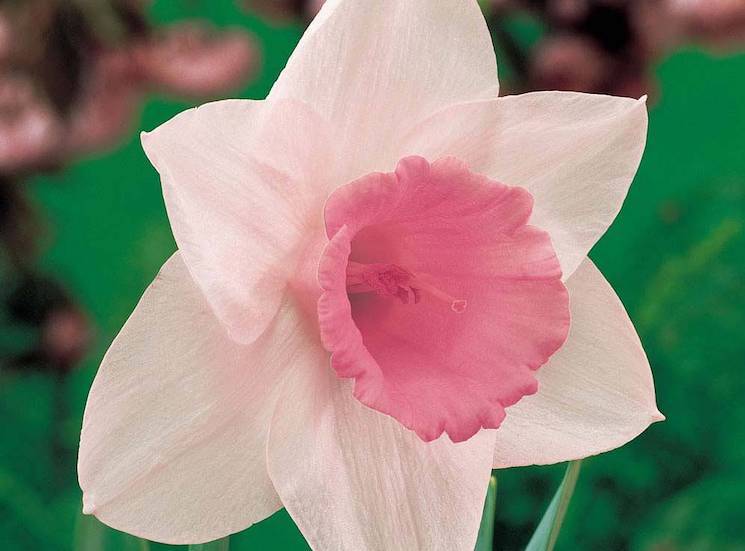 Not all daffodils are yellow - pink pride provides a pretty pastel twist.
Image: Van Meuwen
2. Naturalise daffodils in grass
Daffodils add an early accent of colour to your lawn if naturalised in grass rather than planted out in beds. For an 'accidental' effect, try casting a handful of bulbs across the lawn and planting them where they land. Make planting holes with a bulb planter, or cut back a section of turf if you're planting a lot. Don't use too much fertiliser as this will result in overgrown grass. Be careful not to mow your daffs too early - if you like a tidy lawn, plant them in 'tufts' so you can mow round them.
3. Plant daffodils in containers
A container or window box is a great way to grow daffodils in a smaller space if you don't have room elsewhere. Plant in the same way as in the ground, but slightly closer together - about one bulb width apart - for a more intense display.

In large containers you can plant at two levels. Fill your container with compost to the halfway point and lay out your bulbs. Add more compost and another layer of bulbs. Cover with soil and wait for the show. All the bulbs should grow to the same height but there will be double the number.
4. Deadhead faded daffodil blooms
Once your flowers are past their best, deadhead them to give the bulbs a chance to save their energy for next spring.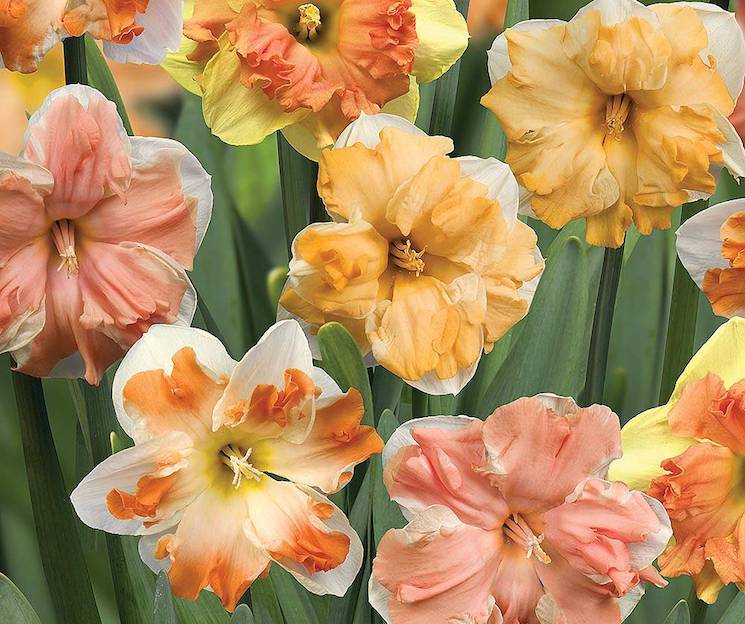 Daffodil 'Rainbow Butterflies' are just as easy to grow as traditional varieties.
Image: Van Meuwen
5. Don't be too quick to cut back foliage when flowering is over
Once the bloom is finished and you've cut or deadheaded the flowers, the bulb uses its foliage to create energy for next year. Leave them alone for six weeks, or until the leaves start to turn yellow and deteriorate. Cutting back leaves or mowing naturalised daffs too early will result in a poor crop or no flowers next spring.
6. Split daffodil bulbs that are not flowering
Daffodils may fail to bloom, or come up 'blind' for a number of reasons. If they were successful in previous years, the most likely cause for not flowering is that the bulbs have multiplied and become too crowded. Try digging them up and dividing.

If they've never flowered, it's likely they were planted too late, the bulbs were too small, or they're not getting enough sunshine.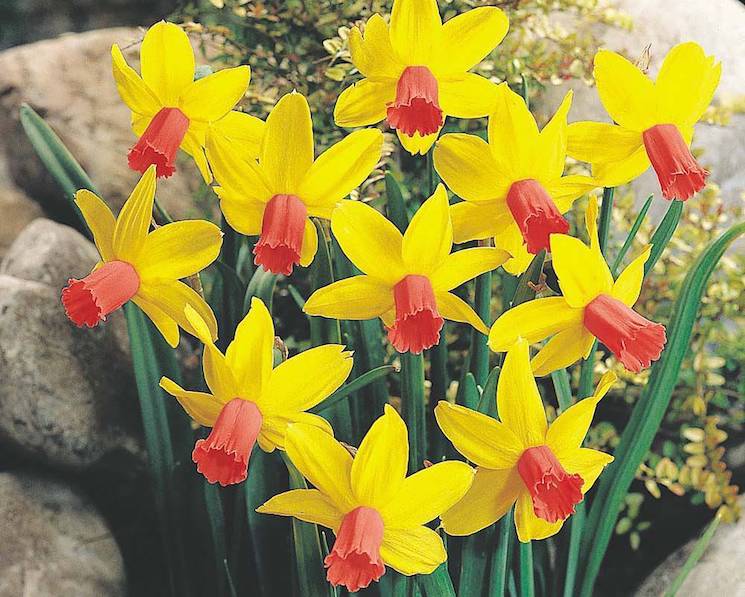 Dwarf varieties like 'Jetfire' are great for less sheltered gardens
Image: Van Meuwen
7. Try miniature varieties if your daffodils keep drooping
Daffodils withstand most harsh weather, but they sometimes take too much of a battering to carry on! If you haven't got a sheltered location to protect your plants from flopping in the wind and rain, try growing a miniature variety instead. If you're looking for a sweet dwarf option, 'Tête-à-Tête' daffodils are a timeless favourite.

You might also check the depth of your bulbs. Another possible reason for drooping daffodils is that the bulbs weren't planted deep enough.
8. Feed daffodils with a high potash fertiliser in spring
When planting daffodils in borders and containers, it's good to mix organic matter such as manure or compost into the soil. Once established, fertilise each spring, but avoid high nitrogen content fertilisers that cause daffodil blindness. Opt for a high potash fertiliser instead.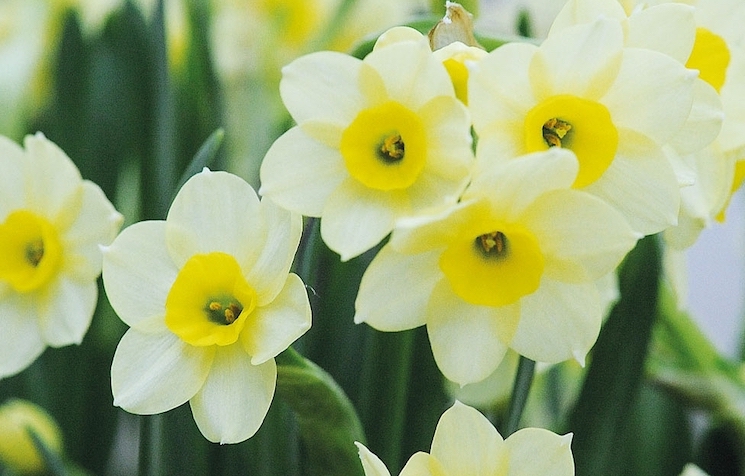 Minnow daffodils have a beautiful fragrance
Image: Van Meuwen
9. Choose for fragrance and colour
A bunch of cut flowers from your own garden is an extra special way to show loved ones you care. Daffodil 'White Lion' has fragrant flowers with luxurious folds of double petals in soft yellow and lemon. Or try Daffodil 'Raffles' which combines a bright, showy double bloom with a lovely fragrance and striking colour.
10. Grow daffodils indoors
Grow daffodils indoors to enjoy springtime cheer in the depths of winter. For indoor growing it's best to go for a dwarf or miniature variety like the creamy Topolino, as they need less space and find it easier to adapt to the environment. Fragrant varieties are a good option, bringing scent and colour into your home.
Look after your daffodils and they'll reward you for many years to come with welcome springtime colour. If you have any tips for growing daffodils we'd love to hear them.