Facebook Questions and Answers for the 29th August 2014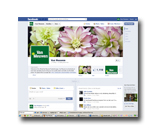 Click here to see our previous Q&A sessions.
Hello Facebook fans, thanks for your questions this week, here are Carly's replies:
Anna Shepherd
I have a camellia in a patio pot which is growing really well and has no sign of disease. However rust coloured fungus with toadstools has grown in the compost and has even stained the sides of the plastic pot with a rusty powder. I wonder if it has some connection to the woodchip mulch I top dressed the pot with. Is this likely to affect the plant or spread to others?!
Hi Anna, despite the alarming colour, this sounds like a harmless, naturally occurring fungus which feeds off dead plant matter - perhaps a slime mould. Fungi are normally quite specific in their host materials and relatively few live off living plant tissue. It most likely appeared as a result of the wood chip mulch you applied and hopefully shouldn't do your Camellia any harm. If you are concerned or don't like the appearance of the fungus, try removing the wood chip mulch (put it in with normal household waste) and replace it with pebbles or slate chips. This will take away the food source for the fungus so it will no longer be able to grow. Wipe the edges of the container with a cloth soaked in mild soapy water to remove the powdery residue. I hope this helps, let us know how you get on.
Barum Jeffries
How to know which Heuchera are shade loving or not?
Hi Barum, all Heucheras are generally happy in partial shade although growth will be a little slower than if they were in full sun. Modern varieties tend to be quite vigorous and happy in either position, although those closest to green in colour will have the best ability to tolerate shade. Heucherellas such as 'Alabama Sunrise' are hybrids between Heuchera and Tiarella so have a very vigorous habit, thriving in both sun and partial shade. Take care with red or purple-leaved varieties as these will likely struggle more in shady conditions, often becoming green as the leaves try to photosynthesise in the lower light levels. Make sure the soil is fertile, well drained and enriched with organic matter to allow for optimum growth. I hope this helps.
Kate Rose
Hi Carly. Any idea why my Trachelospermum jasminoides didn't flower much this year? It's about 18 months old and otherwise healthy with lots of growth this year. Thank you.
Hi Kate, it may be that your Trachelospermum is a bit young and still establishing. These climbers take a few years to produce a really good show. They do like full sun and warmth to initiate flowers so make sure you have positioned it correctly - a south or west-facing wall would be ideal. It is hardy to around -5 to -10°C so will appreciate a layer of horticultural fleece over winter; at least while it establishes. A harsh winter may be detrimental to flowering. Make sure the soil stays moist in dry weather and mulch your plant each spring with organic matter to encourage good soil fertility and structure.
Also, my crab apple tree looks like its dying - there's a hollow area in the trunk (see pic) which has ivy growing in it and very sparse leaf growth this year. Problem is its very mature, probably about 15ft tall and the bird's shelter in it before visiting the feeders. What should I do, drastically dig it up, or leave it to die off and perhaps plant clematis through it? Thank you Carly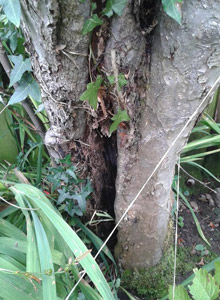 The crab apple tree could be struggling with the split trunk but I would also check the branches and leaves for any other sign of disease too. If the tree is otherwise in good health, there's nothing wrong with allowing it to continue to grow, although it may be worth thinking about replacing it at some point. The only immediate danger with weakened trunks is their vulnerability in stormy weather but the hollow can also encourage pests and diseases. The same danger would also be present if you were to leave the tree to die, as the wood would eventually rot and the tree would be likely to fall over. There are lots of similar small trees which would be good replacements, and have similar wildlife value, including varieties of crab apples, flowering cherries, Cornus mas, Sorbus vilmorinii (Rowan), Quince (Cydonia), Cornus florida and Medlar. I hope this helps Kate, best of luck.
Kath Baker
Our mature ornamental cherry tree is at the end of its life - 30+ years so it's done well. We want to replant a tree and want something good for wildlife. Maximum 7m tall - any ideas?
Hi Kath, there are quite a few small trees you could plant which are good for wildlife. Any tree which has nectar-rich flowers in the spring and a crop of berries in the autumn is a winner! For small trees with these attributes you could try Medlar (Mespilus germanica), Crab apple cultivars, Cornus mas, Sorbus vilmorinii (Vilmorin's Rowan), Quince (Cydonia oblonga), Amelanchier 'Ballerina' or Cotoneaster 'Exburiensis'. Many of these trees also have good autumn leaf colour for added interest. Euonymus europaeus is a good small tree for autumn leaf colour and fruits, which are eaten by many animals, although it tends to be shrubby in its early years. I hope this gives you some ideas Kath, best of luck.
Julie Goodwin
Hi VM, we have a very ropey looking Victoria Plum in a new allotment that is half dead wood. It's not very big but it has produced fruit. The plums were large and juicy and great colour but had absolutely no flavour at all. Have we got the species wrong or can plums be flavourless? Also, we are planning to replace it with a damson. We already have two Merryweather, which, while being gorgeous to eat straight from the tree, are not what I would describe as a proper damson. We are thinking of Farleigh Damson. Apparently it is a good cropper but is it as tart and as excellent for preserving etc as the proper, full on Shropshire Damson? Many thanks.
Hi Julie, from your description the plum sounds like a cultivated variety and should therefore have some flavour! This could be from a sudden change in soil moisture causing the plums to quickly take up lots of water, or perhaps a change in temperature. Plums do develop the best flavour in warmth and sunlight. It can also happen when the fruits aren't thinned in early summer. With regards to Damsons I'm afraid I have little experience with these varieties and can only rely on the RHS AGM descriptions - Farleigh Damson has excellent flavour and heavy crops with blossom showing some resistance to frost, compared to 'Prune Damson' (Shropshire Prune Damson) which has larger fruits of excellent flavour, although not as heavy crops as Farleigh. Both are old varieties with a history of culinary uses, so I would expect them both to have good flavour and tartness. I hope this helps Julie, best of luck with your new tree.