How to grow hydrangeas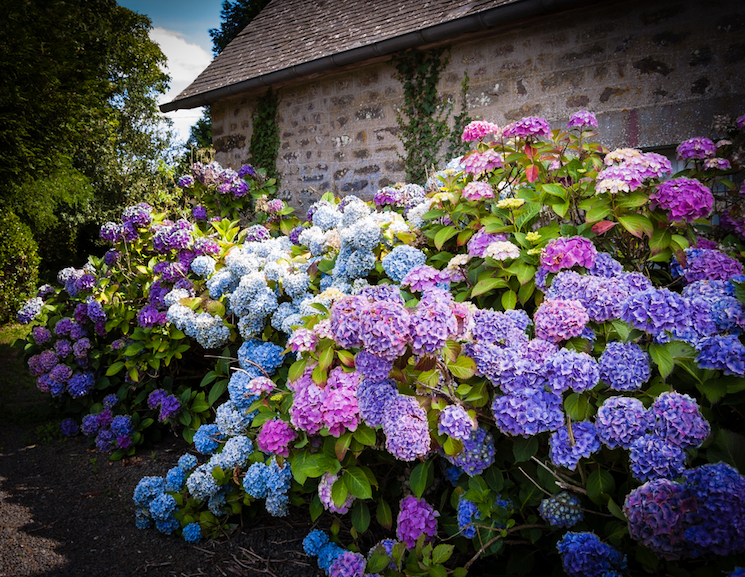 From crisp white through to warm mauve and cool blue, hydrangeas provide an impressive show
Image: Shutterstock
With their large, showy flowers, hydrangea plants are a superb way to bring late-summer colour into your garden. And these stately, elegant shrubs are not only prized for their blooms; many have ornamental flaking bark and attractive autumn-leaf colours too. Read on to find out how to grow hydrangeas in your garden.
Types of hydrangea
The most popular hydrangea varieties you're likely to see are:
Hydrangea macrophylla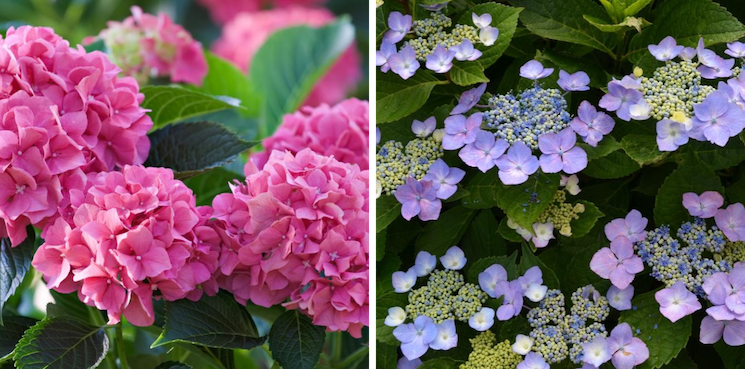 Hydrangea macrophylla include mophead hydrangeas (left) and lacecaps (right)
Image: Shutterstock
Hydrangea macrophylla is one of the best known hydrangeas. These rounded deciduous shrubs are normally divided into two groups: mopheads and lacecaps. Mopheads (sometimes known as Hortensia) such as Hydrangea 'Glam Rock' have rounded, almost spherical flower heads with mainly large, sterile flowers. Smaller cultivars such as Hydrangea 'Love' (from the same breeder as Hydrangea 'Miss Saori') are ideal for container cultivation.

Lacecaps have flattened flower heads with small fertile flowers in the centre surrounded by large, showy, sterile flowers.

The flowers of Hydrangea macrophylla have the interesting ability to change colour depending on the soil pH. For more information about changing hydrangea colour see the section below.
Hydrangea paniculata
The large, conical flower heads of Hydrangea paniculata
Image: Shutterstock
Hydrangea paniculata varieties produce large, conical flower heads which often change colour as the season progresses. Varieties such as the stunning Hydrangea 'Vanilla Fraise' are comprised mainly of sterile flowers but some, such as Hydrangea paniculata 'Kyushu', have a mixture of sterile and fertile flowers which are attractive to bees. These tall, upright shrubs are fast growing and form medium to large plants.
Hydrangea anomala subsp. petiolaris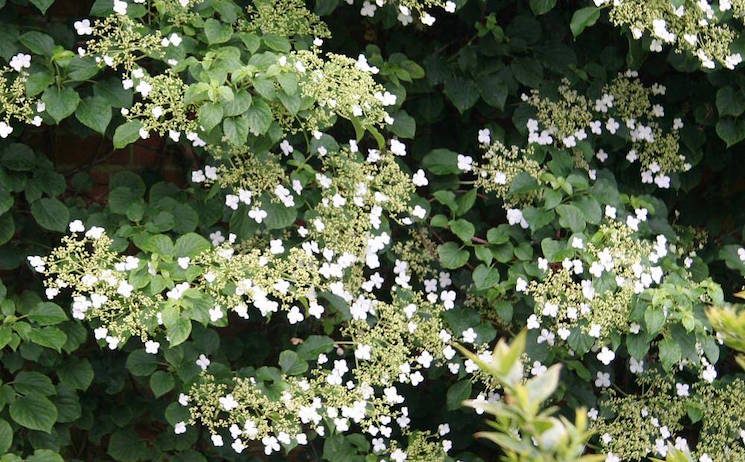 The heart-shaped leaves and lacy, white flowers of Hydrangea petiolaris
Image: Courtesy of Thompson & Morgan
Also known as Hydrangea petiolaris, this is the most widely grown of the climbing hydrangea varieties. This vigorous, woody climber thrives in even the shadiest places making it ideal for north-facing walls. Throughout summer, masses of lacy, white hydrangea flowers clothe the stems, attracting bees and other pollinating insects. The heart-shaped leaves turn a glorious butter-yellow in autumn.

Another variety you may come across is Hydrangea seemanii, an evergreen climbing hydrangea which is not fully hardy in the UK, needing some protection in winter.
Hydrangea arborescens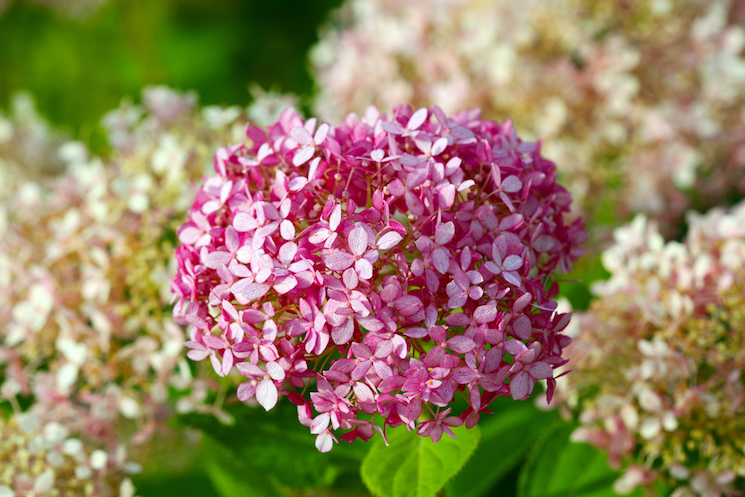 The large, spherical flowerhead of the Hydrangea arborescens Annabelle
Image: Shutterstock
Also known as sevenbark, one of the most popular cultivars is Hydrangea arborescens 'Annabelle'. Producing large, spherical flower heads from July to September these magnificent deciduous shrubs have a good show of autumn colour, when the leaves fade to pale yellow.
Hydrangea quercifolia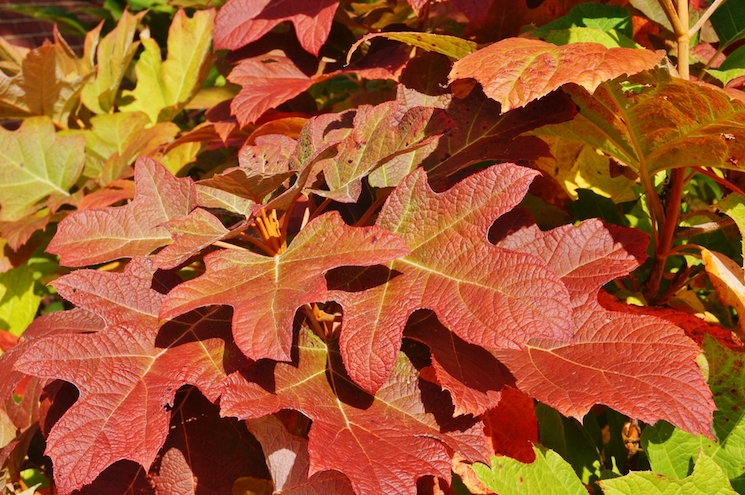 Warm autumnal colours of Hydrangea quercifolia
Image: Shutterstock
Hydrangea quercifolia – known as the oak-leaved hydrangea – is renowned for its rich autumn colour, when the green, oak-shaped leaves turn to warm, red-bronze shades. A true woodland plant, it prefers at least partial shade.
Where to plant hydrangeas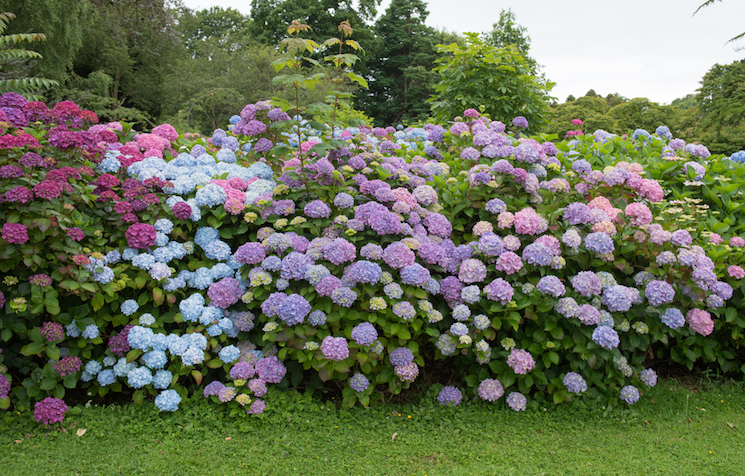 Hydrangeas enjoy the dappled shade of a woodland garden
Image: Shutterstock
Originating from woodland areas, hydrangeas are perfect for cool, dappled shade or woodland gardens. Grow hydrangeas in a partially shaded spot with shelter from cold, drying winds. Avoid dry, sunny spots – hydrangeas can only cope with full sun if their soil is kept moist. Climbing hydrangea (Hydrangea anomala subsp. petiolaris) will happily grow on a shady, north-facing wall.
How to plant hydrangeas
All hydrangeas are heavy drinkers and thrive in moist, fertile soil. They prefer full sun in the morning and dappled shade in the afternoon if possible. Once planted, water at least once a week in the dryer months.
• Prior to planting, incorporate generous amounts of organic matter into the soil to provide the best growing conditions.
• Prepare a hole as deep as the root ball and about twice as wide.
• Set the plant in the hole and fill it with soil.
• Water thoroughly.
• Multiple hydrangeas should be spaced about 3 feet apart.
• Mulch hydrangea plants each spring with a layer of well-rotted manure or compost to help conserve moisture in the soil.
• On light, sandy soils scatter a slow-release fertiliser around the base of the plant each spring.
How to grow hydrangeas in pots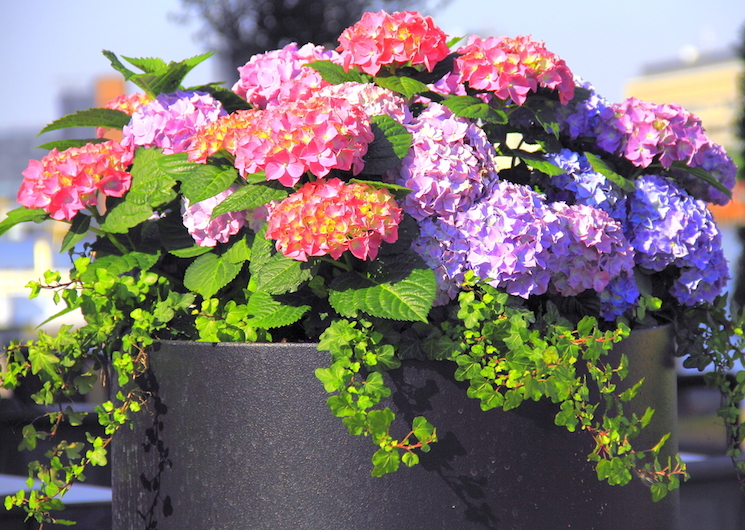 Feed container hydrangeas every few weeks through the growing months
Image: Shutterstock
Hydrangeas in containers need plenty of water and nutrients throughout the growing season to thrive. Use a container with at least 45cm (18") diameter and depth. Scatter a slow-release fertiliser around the base of the plant in spring or use a balanced liquid fertiliser every few weeks throughout spring and summer. To maintain a blue flower colour use an ericaceous fertiliser.
How to change the colour of a hydrangea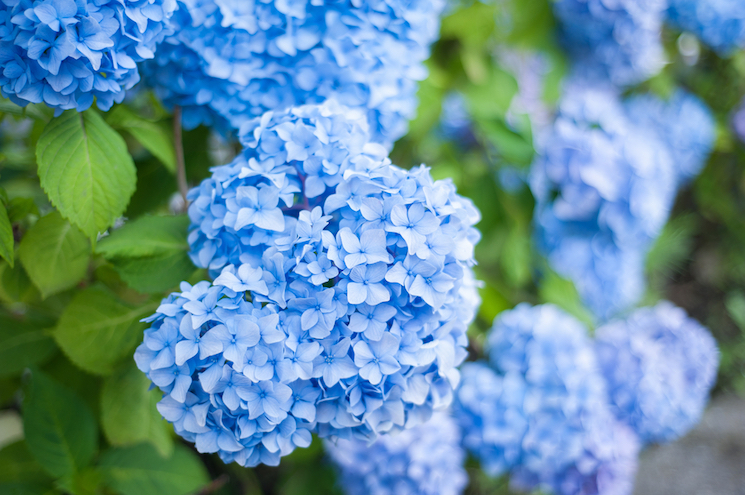 Mophead hydrangeas produce blue flowers in acid soils
Image: Shutterstock
Some hydrangea plants, especially cultivars of Hydrangea macrophylla, change flower colour depending on the pH of the soil.
• Acid soils (with a pH value of less than 5.5) produce blue flowers due to the high availability of aluminium in the soil.
• Neutral to acid soils produce mauve flowers.
• Alkaline soils produce pink flowers, as the aluminium becomes gradually less available.
• White hydrangea flowers are unaffected by soil pH.
If you have a fairly neutral soil you can apply hydrangea colourants to change the colour of your hydrangea flowers from pink to blue. These compounds contain aluminium sulphate and are readily available online or in garden centres.

You can also try growing hydrangea in pots of ericaceous compost to maintain a blue colour, feeding with ericaceous fertiliser. Ensure you water with rainwater, as hard water contains calcium and magnesium which will create alkaline conditions and cause flowers to become pink over time.
How to prune hydrangeas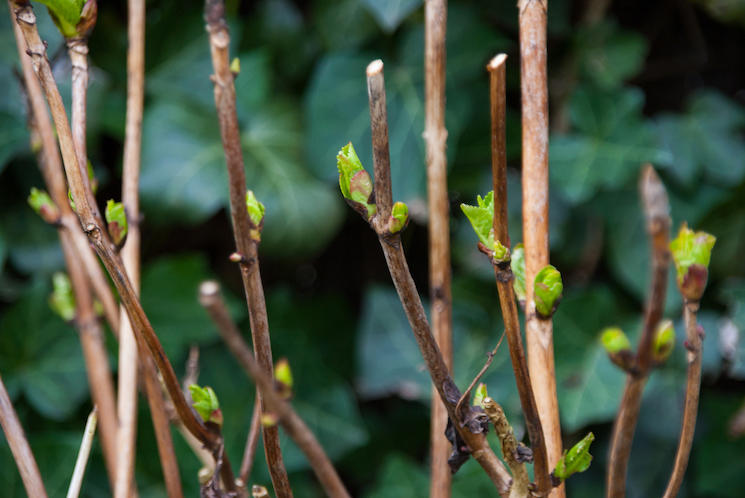 Prune Hydrangea macrophylla back to the first pair of healthy buds
Image: Shutterstock
Hydrangeas flower on the previous year's growth and can produce a good display with little pruning. However, regular pruning each year will encourage vigorous new growth and maintain the best display possible.
Pruning shrubby hydrangeas
Hydrangea macrophylla and Hydrangea quercifolia need only light pruning. The dead flower heads of Hydrangea macrophylla should be left on over winter to protect the tender growth buds below. In early spring, remove the dead flower heads, cutting back to the first pair of strong, healthy buds. On established hydrangea plants, cut one or two of the oldest stems back to the base to encourage new, more floriferous growth.

Hydrangea paniculata and Hydrangea arborescens flower more prolifically if pruned back to a permanent framework each spring. Prune the previous year's stems back to a healthy pair of buds in early spring to maintain this framework. If pruned hard to a low framework, about 25-60cm (10-24") tall, larger flower panicles on strong upright stems will be produced.
Pruning climbing hydrangeas
Prune climbing hydrangeas after flowering. Simply remove all spent flowers and cut back any overlong shoots to a pair of healthy buds, so the plant fits the available space. Established plants will tolerate hard pruning in spring but this may sacrifice flowers for a year or two.

That's everything you need to know about growing and caring for hydrangeas. Follow this guide and your garden will soon be bursting with colour.