How to prune lavender
Lavender is an easy-to-grow, evergreen shrub with deliciously scented flowers and foliage. If left to its own devices, lavender can become bare and straggly. But pruning a lavender plant will prolong its life, maintain an attractive shape and ensure plenty of flowers the following year. Here's how to prune lavender.


What are the main varieties of Lavender?
The three most popular and widely available lavender plants are common or English lavender (Lavandula angustifolia), French lavender (Lavandula stoechas) and lavandin (Lavandula x intermedia).
Common lavender
Common lavender bears a single flush of flowers on long, slender stems, mainly in June and July. It's a fully hardy shrub.
French lavender
French lavender flowers continuously from May to September (with dead-heading). Flower spikes are topped with distinctive bracts or 'wings' and are borne on short stems. French lavender is borderline hardy, coping with temperatures between -5°C and -10°C (14-23°F) for short periods.
Lavandin
Lavandins are sterile hybrid lavenders, which are more vigorous than common lavender. Flowers are borne on very long stems, mainly in July and August. Lavandin is slightly less hardy than common lavender, but will cope with short periods down to -10°C (14°F).


When to prune lavender
Carry out lavender pruning in late August, just after flowering has finished. Don't leave it too late, as any re-growth will need time to harden up before the first frosts. You can also trim your lavenders in April, but this will delay flowering slightly.


How to prune lavender
Using either secateurs or hand shears simply trim back the whole plant by 2.5-5cm (1-2"). Lavenders thrive if pruned back fairly hard but never cut back into old wood as most lavender plants won't re-grow from this. Always make sure there is some healthy green growth left for the plant to regenerate from.

Dead-head French lavenders throughout the summer as they'll flower continuously from May to September. Deadheading will also encourage more flowering through the season.


Top varieties of lavender
Common/English lavenders
'Munstead' - delicate purple-blue flowers (45 cm/18 in)
'Hidcote' - highly scented, dark purple flowers (60 cm/24 in)
'Ellagance Sky' - elegant mauve flowers (60 cm/24 in)
French lavenders
'Purple Ribbon' - pretty, dwarf variety (20cm/ 8 in)
'Fathead' - spicy fragrance irresistible to bees! (60cm/24 in)
'Bluestar' - the prettiest of purple flowers (60cm/24 in)
Lavandins
'Edelweiss' - intensely fragrant white flower spikes (60 cm/24 in)
Don't leave it too long before you cut your plants back. Although your plants may look a bit sad after pruning, they'll quickly put on some new growth before winter, ready for another fabulous display next summer!
Watch: How to prune lavender with Van Meuwen
Lavender plants need regular pruning to prevent them looking thin and woody. Learn how to prune Lavender with Van Meuwen.
Quick Links: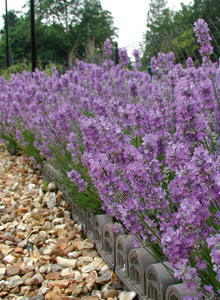 Pruning lavender annually encourages a neat growing habit and prolongs the shrub's life.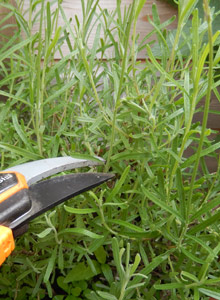 Lavenders tolerate fairly hard pruning, although make sure there is some healthy green growth left for the plant to regenerate from.