Growing plants for ground cover
Ground cover plants are excellent for a range of situations in the garden, from covering steep banks to brightening up bare patches of soil beneath trees and shrubs. Their root systems will also help stabilise the soil on steep and sloping areas of the garden. They help suppress weeds and are generally low maintenance plants, ideal for those gardeners with limited time.
Top tips
1. Before planting your ground cover plants it's a good idea to weed the area carefully, removing the roots of persistent weeds such as dandelions, ground elder and couch grass. Even the best ground cover plants won't be able to suppress these weeds and it's much harder to remove them once your plants have started growing!
2. Break up the soil to a spades depth with a garden fork and work in plenty of organic matter such as well rotted manure, compost or recycled green waste to help retain moisture and improve soil fertility. Once your plants are established there will be little chance to improve the soil so it's best to get them off to a good start at planting time.
3. Mulch your new plants in their first year with organic matter, bark chips, gravel or landscape fabric to help retain moisture whilst their roots establish. Water regularly if the weather is hot and dry.
4. Keep on top of weeding to prevent competition for light, nutrients and water. You may find plants take a little longer to grow to their full potential in heavy shade, even very vigorous varieties, so you'll need to be vigilant in weeding whilst these plants establish.
5. Shrubby or perennial ground cover plants are the easiest to maintain although there are a few annual ground cover plants which will grow in sunny areas of the garden.
Ground cover plants for sun
Many ground cover plants have adapted to growing in sunny, dry locations - they often have foliage which is hairy, leathery or silver in colour to reduce moisture loss, such as Delosperma which has succulent leaves. These plants also have extensive root systems that penetrate deeply to find moisture.
Ground cover plants for shade
Most of us have shady areas in our gardens; beneath trees and shrubs or alongside buildings, where growing conditions are challenging. These are often seen as problem spaces but there are plenty of colourful flower and foliage plants such as hardy Geraniums and ferns which will thrive in these conditions and provide excellent ground cover and interest.
Quick Links: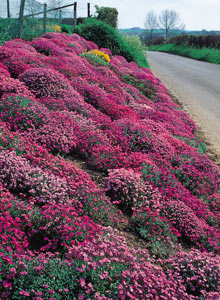 Ground cover plants such as Aubrieta are excellent for steep banks - they suppress weeds, help stabilise the soil and are low maintenance.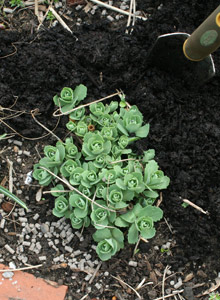 Mulch your new plants in their first year with organic matter, bark chips, gravel or landscape fabric to help retain moisture whilst their roots establish.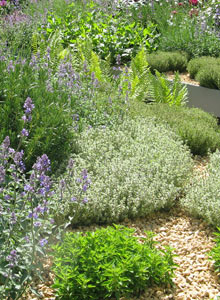 Try using gravel or slate chips whilst your plants establish - not only does this suppress weeds and retain soil moisture, it looks decorative too!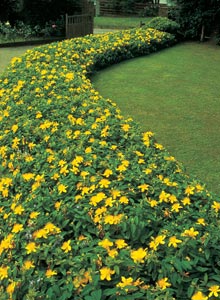 Hypericum calycinum (St John's Wort) is an excellent groundcover plant, tolerating deep shade and dry soil.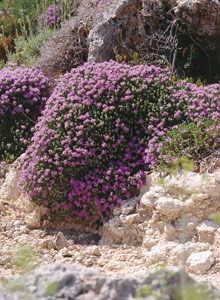 Thyme and Helianthemum are fantastic for a hot and sunny spot in the garden, providing a nectar-rich ground cover for bees and butterflies.