Designing a low maintenance garden
We'd all like a garden as perfect as those at the Chelsea Flower Show or at stately homes across the country, but the reality is these are often maintained by a team of full-time gardeners! Most of us would struggle to maintain such a garden, but there are a number of design tips and plants which will help you get close to these designs, whilst being easy to maintain. Read on for some easy low maintenance garden ideas.
Top tips
Lawns
A perfect lawn takes a fair amount of annual maintenance. For a low maintenance garden try replacing your lawn with gravel, paving or decking, all of which will offset your plants just as effectively. If you really would like to keep your lawn then try reducing the size or simplifying the shape for easier mowing.
Design
Keep the shape of your borders simple - curves are harder to mow and trickier to pave to the edges of.
Reduce the amount of hanging baskets and containers you have and group them together to make watering quicker. Smaller containers dry out faster and will require more watering so try using fewer large containers.
Don't leave the ground bare! Putting in plants or gravel is better than leaving the soil bare where weeds will accumulate and need pulling.
Hedges need clipping at least once a year and are high maintenance in comparison to a wall or fence. To soften the effect of a wall or fence there are a few low-maintenance climbing plants you can grow against them (see table below).
Watering and feeding
Try installing an irrigation system to save you hours of watering by hand! For more water saving tips for your garden click here. The easiest way to feed your plants is to use a slow-release fertiliser which will last for the whole season. These are either incorporated into the compost before planting containers, or sprinkled around the base of plants growing in the border. This is only necessary if your soil is poor.
Plants
Roses and herbaceous perennials are prime examples of high-maintenance plants! They need annual pruning, staking and dead-heading to perform well. On the other hand trees are the ultimate low-maintenance plant, although make sure you choose one that suits the size of your garden. See the table below for examples of other low-maintenance garden plants:
All new gardens will be high maintenance in their first few years but with careful watering and weeding they will soon establish and become easy, low maintenance spaces.
Quick Links: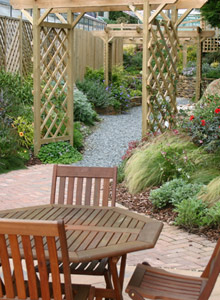 For a low maintenance garden try replacing your lawn with gravel, paving or decking.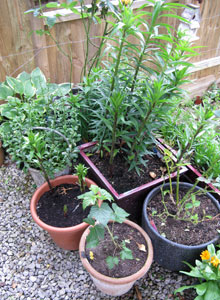 Larger containers retain water for longer - group them together to make watering quicker.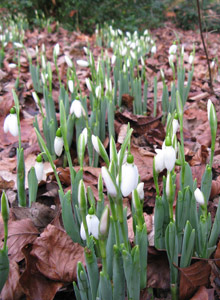 Some bulbous plants such as Snowdrops will look after themselves!